A reliable and affordable electricity supply helps businesses to grow and create jobs.
In sub-Saharan Africa, 70 per cent of people don't have access to electricity – in Tanzania, that figure is 80 per cent.
Sustained investment across the whole power sector is needed because without electricity, developing countries will fall short of reaching their economic potential. In 2015, we partnered with Norfund, Norway's development finance institution, to take direct control of Globeleq Africa – the largest independent power producer on the continent.
Only one in five people in Tanzania currently has access to electricity
How Songas supports jobs
Songas, one of the companies owned by Globeleq, is one of the largest independent power producers in Tanzania. Its 190-megawatt plant in the capital, Dar es Salaam, generates 20 per cent of the country's electricity.
As well as powering businesses and homes across Tanzania, Songas employs around 90 people directly and runs a popular trainee programme – providing young Tanzanians with the opportunity to develop engineering skills and take the first steps in building their careers.
20 per cent of Tanzania's electricity is generated by Songas
Danford's story
Having a job with a company playing an integral role in Tanzania's growth is a great source of pride for Songas' employees. Danford Mpalanzi, an Electrical Supervisor, agrees:
"When you're working here at Songas you are aware of the difference it makes to the development of Tanzania as a whole."
There's an understanding, Danford says, that a successful Songas plant can help power future growth in Tanzania: "Through power generation we are creating a lot of jobs for others and I feel proud to be part of the team." Danford is happy to share his expertise with the young engineers on the trainee programme. He regularly holds training sessions with the group to share his experiences and to help ensure the future generation of Tanzanian engineers is equipped with the right skills.
Away from work, having a steady and secure income has allowed Danford to pay for his children's education and healthcare, and he's started building the family home in the Kimara area of Dar es Salaam. Having his father working at Songas has inspired Danford's eightyear-old son and he hopes that one day he can become an engineer too:
"My job that I'm doing has made my boy very much excited to become an engineer… and I hope he may become a better engineer than I am."

Danford Mpalanzi, Electrical Supervisor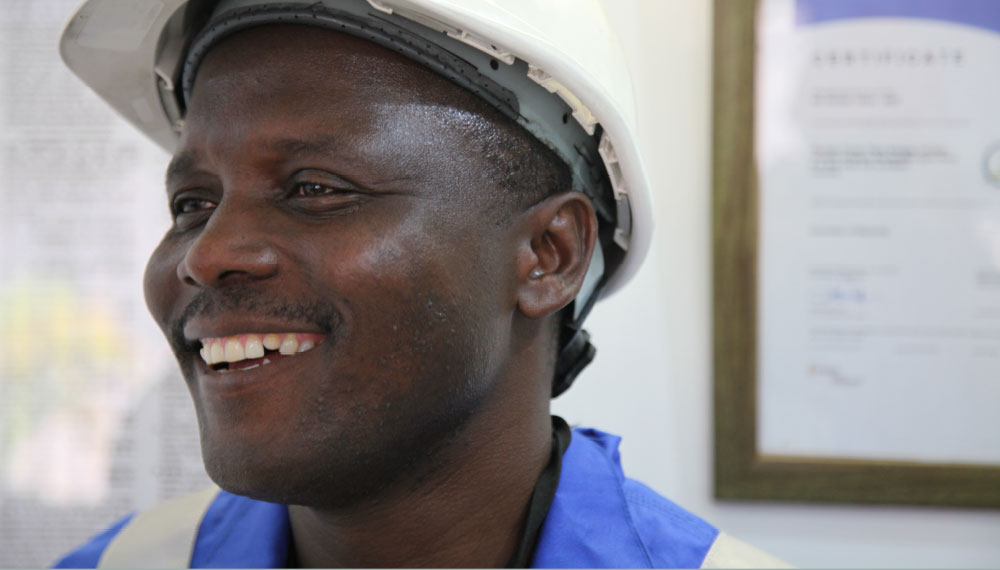 How we're investing in Songas
To address the major shortfall in power generation across Africa, in 2015 we partnered with Norfund, the Norwegian development finance institution, to take direct control of Globeleq Africa – the continent's largest developer, owner and operator of independent power plants. Its eight power plants include Songas in Tanzania, as well as power plants in South Africa, Côte d'Ivoire, Cameroon and Kenya.
The business aims to add thousands of megawatts of generating capacity to Africa over the next decade.
Our investment in Globeleq is part of our commitment to supporting independent power companies in developing countries.
A plant the size of Songas has the capacity to support the development of over 100,000 jobs.