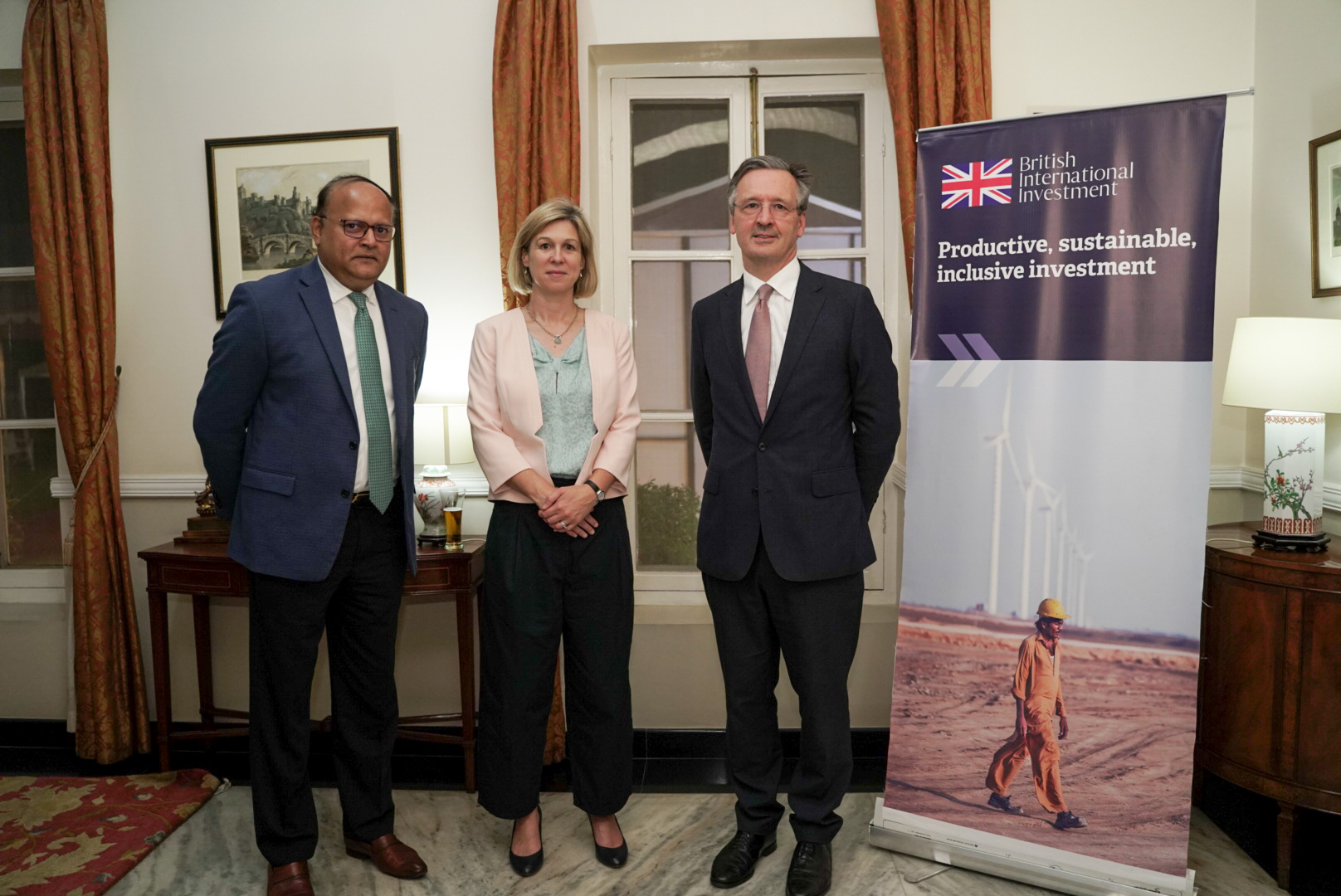 We have invested more than US $100 million in Nepal. This milestone commitment was announced during a reception held on 26 May, to celebrate the Nepal launch of our new name, British International Investment (BII).
Hosted by BII CEO, Nick O'Donohoe and the British Ambassador to Nepal, Nicola Pollitt, the reception was attended by Nepal government officials, local business leaders and entrepreneurs. During the event, we reaffirmed our commitment to continue building relationships with businesses that increase economic opportunities, leverage expertise to support innovation, and work with partners to help bring more investments that can accelerate Nepal's development priorities.
We have been investing in Nepal for over four years, and officially established our presence in the country in 2020 with the appointment of Rabi Rayamajhi as Country Representative. Since then, the we have made significant investments into critical sectors that are helping to boost economic growth, create jobs and drive increased investment into Nepal.
BII CEO Nick O'Donohoe, commented: "I am proud to be announcing BII's investment of over US $100 million in Nepal, a country in which we see substantial growth potential. Since establishing our physical presence in Kathmandu, we have accelerated our investment in Nepal and remain committed to forging important partnerships with businesses that can help deliver productive, sustainable and inclusive impact in Nepal."
Under our new name and five-year strategy, we will pursue investment opportunities in Nepal that can drive innovation and boost digital transformation, expanding on our investment in WorldLink, a leading internet service provider that is delivering reliable internet to hundreds of thousands of households and businesses in Nepal.
BII will also devote patient and long-term capital to help increase climate resilience and clean infrastructure across its markets, including Nepal.
"We will deploy 30 per cent of our investments in Asia and Africa towards climate finance and continue to support the growth of renewable energy generation as we have been doing through the Upper Trishhuli Hydropower Project. Doing our part to increase the supply of clean and reliable energy for millions of Nepalese people and businesses.
"Going beyond this, BII will also support young, ambitious entrepreneurs who are creating businesses that offer truly exciting solutions that can transform societies. One way we are doing this already is through Invest for Impact Nepal – a first-of-its-kind market shaping platform that we launched in 2021 alongside other partners, to increase foreign direct investment into Nepal and unlock the country's growth potential," Nick added.
Speaking during the reception British Ambassador to Nepal, Nicola Pollitt, said: "Supporting sustainable economic development in Nepal is a top priority for us. BII's investments in Nepal are a part of the UK's overarching support toward this larger goal. Our programmes are working with the government of Nepal toward improving Nepal's investment environment and with the private sector to build local market capabilities to attract foreign investors such as BII."
BII's portfolio of over US $100 million in Nepal is supporting five businesses and one fund, across a variety of sectors including financial services, clean infrastructure and telecommunications. These investments include:
• Providing capital through a US $15 million loan to NMB Bank, enabling the bank to extend its lending to support key sectors including SMEs, infrastructure, agriculture as well as foreign currency-earning sectors such as tourism and hydropower projects.
• Improving access to affordable and quality internet through a US $12 million investment with WorldLink, which is helping to stimulate productivity in Nepal.
• Increasing access to clean and reliable energy supply for millions of people and businesses across the country by investing US $21.9 million in the Upper Trishhuli Hydropower Project, which is expected to create over 20,000 jobs across multiple sectors.
• Supporting Nepal's post-pandemic economic recovery and increasing green finance by investing in the US $40 million first close of Dolma Impact Fund II and a US $25 million loan in Global IME Bank.
• Supporting critical trade for several financial institutions in Nepal through our partnership with Standard Chartered Bank.