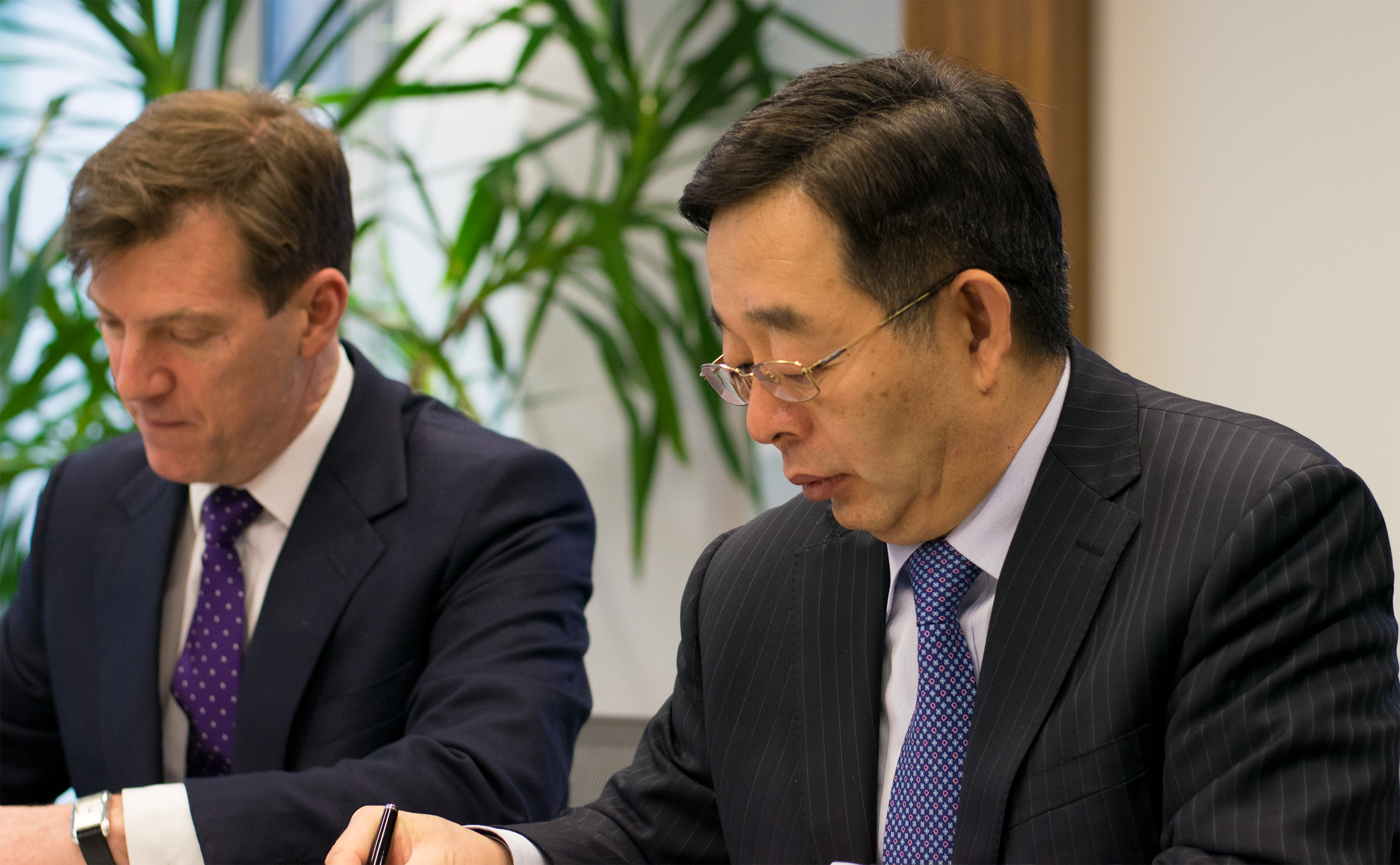 CAD Fund's Executive Chairman, Chi Jianxin, and CDC's Chief Operating Officer, Colin Buckley, sign the agreement in London.
CDC and the China-Africa Development Fund ("CAD Fund"), the first Chinese equity investment fund focusing on investments in Africa, have today signed a memorandum of understanding (MoU) to strengthen their relationship and establish a framework for future cooperation related to investing in Africa.
The MoU between the two organisations represents a commitment to share learning and to explore ways in which they can support each other through the exchange of information and data in areas of mutual interest, as well as future joint research and analysis into investment opportunities in Africa.
CAD Fund was set up by the Chinese government in 2007 and is operated by the China Development Bank. It has total capital of US$10 billion available for investment. It supports Chinese firms to invest in Africa and seeks Chinese partners for African projects. It has invested in sectors including agriculture, infrastructure, energy and manufacturing across 36 African countries.
CDC and CAD Fund have identified Universal Financial Access in Africa as a particular area of focus and the MoU commits the two organisations to work closely to explore innovative ways of supporting the provision of financial services to the millions of Africans who currently lack access to them.
The MoU was signed by CDC's Chief Operating Officer, Colin Buckley and CAD Fund's Executive Chairman Chi Jianxin at a ceremony held at CDC's offices in London.
Welcoming the agreement, Colin Buckley said:
"Today's agreement represents a long-term commitment by CDC to develop and strengthen our relationship with one of China's leading investors in Africa. We both share the vision of promoting investment, development impact and economic growth in a continent which is full of potential.

The memorandum of understanding we have signed allows us to combine our ideas, expertise and commitment to Africa. CDC has over 70 years of experience investing in Africa and we hope to share with CAD Fund some of the lessons we have learnt in order to increase the amount of responsible, long-term investment going to Africa."