The Board of CDC Group plc, the UK's development finance institution, is pleased to announce that it has selected Nick O'Donohoe as its new Chief Executive Officer. Nick will lead CDC as it continues to scale up its work to help build businesses and create jobs in Africa and South Asia.
Nick has considerable experience in the financial and investment sector. He has been an innovator in impact investing, and has a passion for international development. He spent the first thirty years of his career working for leading financial services companies, across different asset classes and countries. In 2011, he co-founded Big Society Capital, which was established by the UK Government as "the world's first social investment bank". He served as its Chief Executive Officer from 2011 to December 2015. Nick joins CDC from the Bill and Melinda Gates Foundation, where he is a Senior Advisor.
The appointment follows an extensive five-month global search, led by CDC's Board.
Graham Wrigley, Chairman said:
"Nick has the perfect balance of skills and experience. He understands the transformative effect that investing can make to peoples' lives. He has a proven track record of building market-leading businesses from both start-up and within large financial service groups, and has dedicated the last seven years of his career working in impact investing.

Nick has exactly the right style of leadership, experience and values to lead CDC as we continue to be ambitious in supporting essential economic development in Africa and South Asia that will help people escape poverty for good."
Nick O'Donohoe said:
"I am very excited to get the opportunity to lead CDC at this important point in its history. The capital that the organisation provides has never been more important in supporting economic development and job creation in Africa and South Asia. I am looking forward to helping CDC continue to grow, to innovate and to transform lives in some of the world's poorest regions."
Diana Noble, CDC's CEO said,
"CDC's history and dual mandate to deliver development impact alongside a return for the UK taxpayer makes it a special organisation to lead and I'm delighted to hand over stewardship of this great institution to someone who deeply understands both impact and commercial investing. Nick's background of delivering public good through commercial skills, will ensure that CDC continues to deliver its mission, fulfilling its responsibilities both to UK taxpayers and the people in Africa and South Asia we want our investments to benefit."
Nick will join in June 2017, subject to formal approval from the Financial Conduct Authority and following a transition handover from Diana Noble.
About Nick O'Donohoe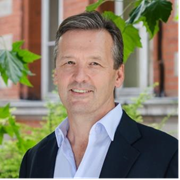 Nick is a Senior Advisor to the Bill and Melinda Gates Foundation where he specialises in the use of blended finance models to support the work of the Foundation.
Prior to taking this role he co-founded, with Sir Ronald Cohen, Big Society Capital (BSC). He served as its Chief Executive Officer from 2011 to December 2015. BSC is an independent financial institution established by the UK Government as "the world's first social investment bank". It is capitalised with unclaimed UK bank accounts and investment by the largest UK banks.
Previously Nick worked at JP Morgan, latterly as Global Head of Research. He was a member of the Management Committee of the Investment Bank and the Executive Committee of JP Morgan Chase, as well as the senior sponsor for JP Morgan's Social Finance Unit. Nick co-authored "Impact Investments: An Emerging Asset Class", published by JP Morgan and the Rockefeller Foundation in November 2010. Before JP Morgan he worked at Goldman Sachs.
In January 2016 he was appointed by the UK Cabinet Office as Chairman of the UK Dormant Assets Commission. He is also a board member of the Global Impact Investing Network (GIIN), Deputy Chairman of the Global Steering Group on Impact Investing and a member of the Investment Committee of the Women's World Banking Microfinance Fund and of the Funding Approval Committee of Convergence.
He has an MBA from the Wharton School and a BA in Mathematical Economics and Statistics from Trinity College, Dublin.