Why focus on food affordability?
Investing in the food and agriculture sector can deliver enhanced economic opportunities, improved nutrition and more resilient supply chains in line with the global Sustainable Development Goals (SDGs) 1 (no poverty), 2 (zero hunger) and 8 (decent work and economic growth). In this context, enhancing the affordability of nutritious foods is an urgent cross-cutting priority – and a key route through which investors like CDC create lasting impact.
Of all the products and services across Africa, the affordability of food is particularly important. Food spending is, by far, the largest component of household budgets – accounting for almost half of all spending in many of our markets, with the highest burden falling on low income households. Enhancing the affordability of food spending therefore presents a huge opportunity to create budgetary space at a household level – freeing up buying power to be spent on more food, more nutritious food, or elsewhere entirely. This extra buying power is most likely to be funnelled towards products or services with high income elasticities – in Zambia, for example, this includes out-of-pocket spending on: education, communications, house rent, water and sewage, electricity and transport. It is these products and services that are therefore most likely to benefit most from the budgetary space potentially generated by the enhanced affordability of food. Enhancing the affordability of food is about far more than just food – it is about everything that households aspire to buy.
Access to affordable, nutritious foods is especially critical when almost one in five people in sub-Saharan Africa, and one in six people in South Asia, remain undernourished. We recognise this is one of many factors related to food security and undernourishment. CDC is invested – directly and indirectly – in over 110 businesses in the food and agriculture sector across the value chain, valued at over $400 million, one such partnership is with Zambeef Products plc. Leveraging this, CDC has partnered with Zambeef and the Southern African Institute of Policy and Research (SAIPAR) to better understand how commercial producers and distributors can, and do, enhance the affordability of protein-rich foods to low income and underserved populations in Zambia.
Where are the greatest opportunities?
We find evidence that businesses may be missing out on opportunities to develop production, packaging, pricing and distribution strategies or even entirely new business models that would enable them to sell more of their protein-rich foods to low income and typically underserved consumers in Zambia's predominantly rural provinces.
This study tackles this challenge through four distinct activities as illustrated here: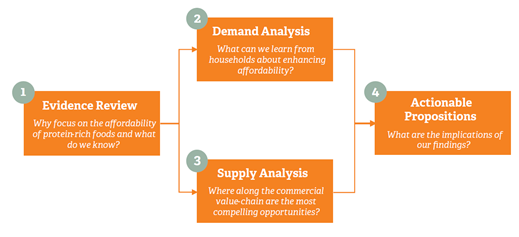 This report concludes with actionable propositions, articulating the way forward for enhancing access to affordable protein-rich foods across our focus value chains in Zambia.
Insight is our series of practical lessons on private sector investment and development, based on our experiences. Sign up to our monthly newsletter.