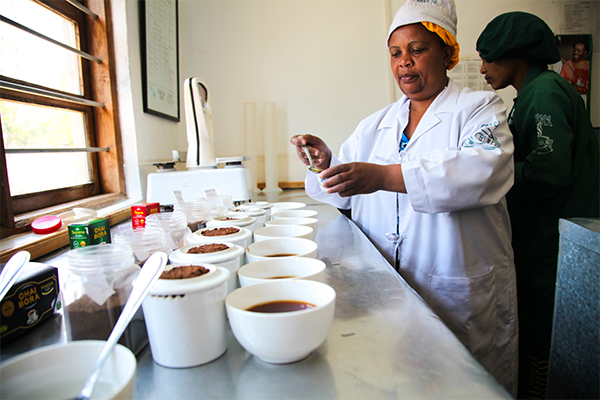 Our 2016 Annual Review, 'Supporting the potential of people', looks back at a year where we made more than £1 billion worth of new commitments and we estimate that our portfolio of investee businesses helped create over a million direct and indirect jobs.
The report focuses on the people who make this success possible. It shows how we support them to make a difference in some of the poorest places in the world by:
Supporting talented teams: helping the teams we invest in to recognise their strengths and weaknesses, to learn new skills, and to grow their businesses.
Ensuring that workers achieve their potential: supporting businesses to improve job quality and working conditions for the people who work there.
Having a positive impact on communities: helping the businesses we invest in to provide wider benefits, for example by improving access to goods and services.
This focus on the importance of individuals is summarised in an interview with our outgoing CEO, Diana Noble, who says:
"Many people talk about what development finance institutions do through the lens of capital, and of course that's important. But it is nothing without the people who invest it and turn it into productive activity on the ground."
As well as looking at individual stories, the Annual Review also reveals the performance of the businesses across our portfolio. In 2016:
Our investee businesses in Africa and South Asia created 44,000 new direct jobs, and we estimate that when indirect jobs are added, these businesses created 1.29 million new direct and indirect jobs;
Our focus on financial sustainability means our assets now stand at £4.8 billion. All our profits are recycled to support more businesses in Africa and South Asia, ensuring that every pound invested goes further
The report covers the final year of investing under our 2012 to 2016 strategy and has been released to coincide with the publication of our new five-year Strategic Framework. Whilst we will continue along the same path we set five years ago – investing where the poorest people live – we are ambitious to do more.
Find out more
Click here to download our 2016 Annual Review: Supporting the potential of people
Click here to watch an interview with our Chairman, Graham Wrigley, and former Chief Executive, Diana Noble
Click here to download our 2017-2021 Strategic Framework: Investing to transform lives
Click here to read our jobs methodology